We care about your operations
eBottli is a flexible, easy-to-use mobile solution that provides instant visibility of your operations
eBottli is a mobile solution that saves you time by giving you instant visibility of your operations. We empower you, your teams and your contractors to act quickly and maximise your production efficiency. It is easy-to-use, affordable and adaptable to every existing software.
We aren't a faceless brand on a website.
We meet personally with our clients to understand their business so we can design an end-to-end solution that can grow with them.
We transform your traceability and safety processes from reactive to proactive. Our traceability software solves a huge problem in beverage production, which causes trillion-dollar losses just in the food and wine industry!
Our tech serves humans (not the other way around).
Increasing incomes is a nice strategy, but on the other hand, we are aware of how much profit lies in reducing outcomes, ie waste. Actually, direct profit is a by-product in comparison to the value of indirect benefits of connecting disrupted supply chain.
We design solutions that make it easy for our clients to monitor the things that matter most from their phone, so they can always make confident decisions on the go.
By optimising production and distribution with our simple food and beverage traceability software, the whole process is complete, and a strong foundation for skyrocketing has been built.


What is the importance of traceability in food safety?
Well, the importance of traceability in food safety in numbers looks like this:
$1.4 Billion annual industry cost of food supply chain inefficiencies.

Nearly 600 million people worldwide become ill after eating contaminated food.

$40 Billion yearly food industry cost of food fraud.
Besides that, competitiveness is a big part of the story, because final customers are getting more sensitive on an everyday basis. They claim more information about the food and beverage they consume and want only the best for themselves and their families.
Right now, demand for certificated, secure, and sustainable products is growing rapidly.
And it can only go higher.
Our food and wine traceability software is extremely easy to use
It is not rocket science. It is quite simple, and tailored to everyone!
eBottli customised the traceability software for food and wine companies, in order to make the process easier. No training or introduction is needed, so you can simply delegate it to employees.
Usability is one of the most important things for us, which our partners and customers appreciate and love.
Food and Wine traceability software from $50/month

Reduce waste by connecting disrupted supply chain

Optimise processes and become more profitable


Avoid food contamination and counterfeiting


Get certified for food traceability and transparency


Using only your phone or tablet!
The CEO, Nathalie Taquet has worked for more than 15 years in scientific research at Nestle. The CTO, Nicolas Foata has worked for more than 14 years in IoT, cloud, luxury goods tracking and big data.
Today, they have only one desire, which is to improve the traceability of the supply chain and provide digital solutions in order to guarantee the quality of what we eat and drink.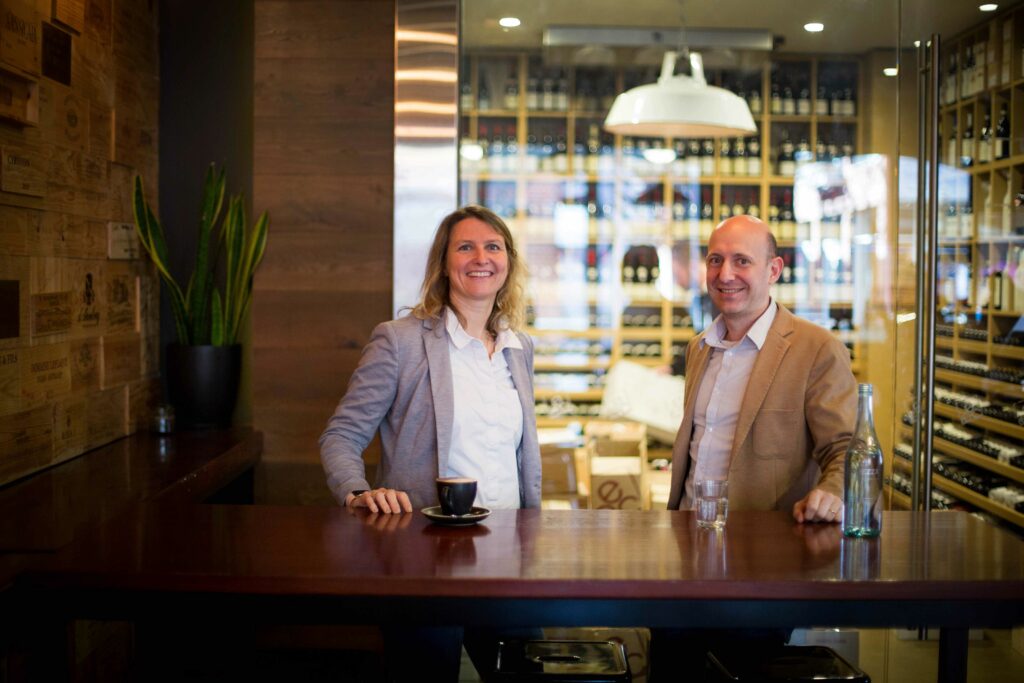 What
others say about us?
"The team at eBottli is helping businesses like ours, utilise state of the art technology to solve old school problems. Collaborating with eBottli provides us with the best chance to operate as efficiently as possible helping save time, and money. eBottli provide thoughtful, technical advice on improving manual and time wasting activities."
Tara Madgett
General Manager - Mclaren Vintners
"They helped to create some fantastic content to showcase our unique cellar door in McLaren Vale, the d'Arenberg Cube. They quickly came to understand our brand and brought the whole experience to life through their work. They created some incredibly stunning aerial videography, still photography, and an engaging video interview with our Chief Winemaker Chester Osborn. The results were fantastic. Thank you to the team."
Christian Burvill-Holmes
Brand Manager - D'Arenberg
"The eBottli team shows passion and commitment. The most admiring thing is the realibity they create for you as customer, with sense of belonging and detailing. Too good."
Vikas Gupta
General Manager - AWM Global
"At Paulmara Estates we were fortunate to have connected with eBottli. Being a boutique brand focussing on purity in wine production it was great to partner with Florence and Nathalie who not only understand our story and passion behind what we do but have the skills to assist us to stream line our business through digitalisation. It is important that we work with people who understand our brand and offer a strategic roadmap to capture an audience who are truly appreciative of wine quality and the story behind each product. Florence and Nathalie from eBottli get to fully understand your business before they propose systems that can add value to your business, they truly make you feel that they are just as passionate about your success as what you are. Honesty and Integrity is paramount in our business so we try and aline ourselves with people of similar values."
Paul Georgiadis
Owner - Paulmara Estates
"Wines of Adelaide Pty Ltd has been working with Nathalie and the eBottli Team and found their input to our business invaluable. Absolute professionals and a pleasure to work with. We would encourage for any wine business to discuss your challenges with the eBottli team"
Peter Jackson
Managing Director - Wines of Adelaide Pty Ltd
"Nathalie and the eBottli team are incredibly experienced and knowledgeable about the wine industry. They bring international knowledge to local problems and go above and beyond for everyone they work with."
Laura Tolson
Director - Lateral Vision
Traceability in the food and beverage industry is a global problem
We have simple solutions for the huge problem of traceability in beverage production, that causes trillion dollar losses only in wine industry!
Lot 14, Stone & Chalk, North Terrace, Adelaide, SA 5000, Australia
Shack 15, 1 Ferry Bldg Ste 201, San Francisco, CA 94111, United States
Subscribe to our Newsletter

Our Solutions

Whether you are facing a challenge in your operations, willing to pursue a goal in the future regardless of your current situation, or wishing to jump on an unexpected opportunity, eBottli will support you in the implementation of digital tools to address your needs.