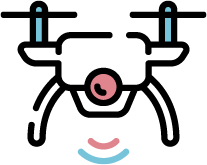 eBottli offers photo shoots with a professional photographer and a drone experience. 

Drones are used for stunning aerial shots, reveals, tracking and other creative shots.

Freshen up your website and social media channels with new and engaging media

Get a unique bird's eye view of your team working outdoors, events at your place, etc.
Drone photos & videos are very relevant to wine promotion. It is a way to share where grapes are growing and showcase the beauty of a vineyard in a modern way. Customers can then better visualise the origin of the wine they buy, something which has been proven to be an increasingly important criteria when choosing a bottle.
81 Flinders Street,
Adelaide, SA, Australia – 5000
Lot Fourteen, North Tearrace,
Adelaide, SA, Australia – 5000
Tel : +61 (0)4 21 222 441
ABN: 74 759 393 949
SUBSCRIBE TO OUR NEWSLETTER
OUR SOLUTIONS
Whether you are facing a challenge in your operations, willing to pursue a goal in the future regardless of your current situation, or wishing to jump on an unexpected opportunity, eBottli will support you in the implementation of digital tools to address your needs.