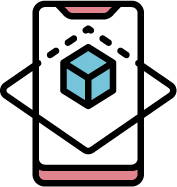 Augmented Reality and
Virtual Reality
We are using the latest technology to produce high-quality content allowing remote immersive experiences. Leave an impactful and lasting impression on your consumer!

Have memorable and unique interactions with your customers!

Powerful purchase conversion through the ability for the customer to personalise and visualise the product of their dreams.

Step out of the box and gain ultimate marketing advantages by using the latest tech.
Augmented Reality, or holograms are the latest technology in terms of image content. Their fun and attractive characteristics will be extremely useful to engage customers and raise interest in your brand which will immediately appear as modern and ground-breaking.
Likewise, Virtual Tours will allow customers to remotely visit your cellar door or premises. It will give them a different point of view, make them feel that they are visiting you and remove the distance between you and them.  This connection between you and your customer will increase engagement and loyalty.
Besoin de plus d'informations ?
81 Flinders Street,
Adelaide, SA, Australia – 5000
Lot Fourteen, North Terrace,
Adelaide, SA, Australia – 5000
Tel : +61 (0)4 21 222 441
ABN: 74 759 393 949
SOUSCRIRE A NOTRE LETTRE D'INFORMATION
NOS SOLUTIONS
Que vous soyez confronté à un défi dans vos opérationsdésireux de poursuivre un objectif dans le futur, quelle que soit votre situation actuelle, ou souhaitant sautez sur une occasion inattendue, eBottli vous accompagnera dans la mise en place d'outils numériques répondant à vos besoins.