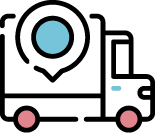 Track the transport of your products and transport conditions in real time for greater security, transparency and brand protection.
Data securely stored using blockchain technology
Follow in real time the location of your goods and their transport conditions thanks to the trackers and the temperature sensor.
New database to improve the logistic flow but also prevent counterfeiting and protect your brand
This technology follows the ever-growing trend of customers who want to know the exact provenance of the product they have purchased. 
Not only will you be able to improve your logistic flow, but you will be able to provide your customer with transparent and accurate information about your product.
81 Flinders Street,
Adelaide, SA, Australia – 5000
Lot Fourteen, North Terrace,
Adelaide, SA, Australia – 5000
Tel : +61 (0)4 21 222 441
ABN: 74 759 393 949
SUBSCRIBE TO OUR NEWSLETTER
OUR SOLUTIONS
Whether you are facing a challenge in your operations, willing to pursue a goal in the future regardless of your current situation, or wishing to jump on an unexpected opportunity, eBottli will support you in the implementation of digital tools to address your needs.